Permanent link to this article: https://ridgecrestcc.org/2012/10/19/photos-from-ridgecrests-national-night-out/
October 13, 2012

October 13, 2012
Joann Pierce and Phyllis Miller
On Wednesday, September 5, the new KIPP School that is now an official part of Landrum Middle School had a welcoming program for the parents and friends of the children enrolled in the school. The children had a good time waving ribbons and chanting to a delighted audience. Guests at the program included Dr. Klussmann, Superintendent of Spring Branch Independent School District, and Helena Brown, City Council Member.
Mr. Luis Pratt         Mr.. Eric Schmidt
Mr. Luis Pratt is the Principal of Landrum Middle School. He greeted people with his fellow Principal, Eric M. Schmidt who serves as Principal of the KIPP School. The KIPP School is a charter school within Landrum Middle School that focuses on college preparation for the students who are enrolled.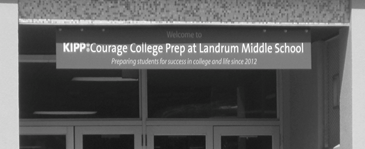 KIPP is a charter program that has a longer school day and school year with an emphasis on preparing the students for college. More than 100 fifth grade students began the new school year as the inaugural class at KIPP Courage College Prep.
Permanent link to this article: https://ridgecrestcc.org/2012/10/13/kipp-school-has-opening-program/
Permanent link to this article: https://ridgecrestcc.org/2012/09/30/come-to-ridgecrests-national-night-out-event/
Permanent link to this article: https://ridgecrestcc.org/2012/09/11/youre-invited-to-the-rcc-ice-cream-social/
Permanent link to this article: https://ridgecrestcc.org/2012/08/26/rcc-thanks-robin-lively/
Permanent link to this article: https://ridgecrestcc.org/2012/08/03/articles-needed-for-newsletter/
Permanent link to this article: https://ridgecrestcc.org/2012/07/22/back-to-school-immunizationsbeat-the-rush/
Permanent link to this article: https://ridgecrestcc.org/2012/07/22/save-the-children-of-ridgecrest/
Permanent link to this article: https://ridgecrestcc.org/2012/06/22/barbara-marland-early-supporter-ridgecrest-civic-club/
Permanent link to this article: https://ridgecrestcc.org/2012/06/22/a-note-heavy-trash-pickup/