On Monday, September 16, the Ridgecrest Civic Club hosted an Ice Cream Social at the SOSA Community Center. The social was well attended. We were privileged to have an excellent speaker, Mr. Eric Schmidt, who is the Director of the KIPP Courage program at Landrum Middle School.
After the program Mary Thompson did her usual excellent work of providing ice cream for all those in attendance. The treat was especially nice because, along with three flavors of ice cream, there were bananas, berries and sauces. As you can see it was enjoyed by all who attended.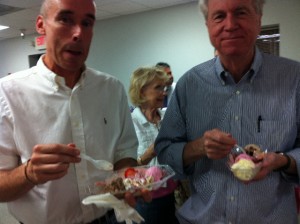 The final activity was awarding the door prizes and this young lady was a proud winner.